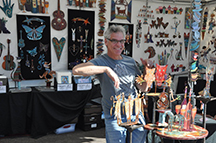 Being a vendor at an art show such as the Fountain Festival or Great Fair can be a big decision, especially if it is your first show. You might get caught up in the travel details, booth set up, or making sure you are drinking enough water (it is an Arizona art show after all). But, one thing you can always remember to help you have a success full show are the "4 P's" of exhibiting.
A long-time seasoned artist of the Great Fair and Fountain Festival told us about what he calls the "4 P's", and how they can assist artists in taking their exhibiting to the net level.
To follow the 4 P's you must remember product, price, presentation, personality. Let's take a look at each to see just what this artist inside information is all about!
Product
This one is probably the most simple of the 4 P's. Make sure you have a quality product that people would want to buy. If your product is badly made, does not work, or simply is not a quality piece, you might want to find a way to make it more desirable for people to buy. Maybe spend some more time on it, really make sure it is made correctly, or work on a few different versions of your pieces (if possible).
Price
The key with price is to know your customers. The Fountain Festival and Great Fair is proud to have a wide variety of people, backgrounds, walks of life, and of course, budgets. This means you must know exactly what people will pay for your work. We don't want you to lower prices just to sell, but, you should know a fair and competitive price to draw people into reaching into their pocket books. Try offering a few levels of price, such as a low, medium, and high price point so you can increase the people who can buy your work.
Presentation
Even if  your art is amazing, but your booth presentation is not well executed, your booth might get overlooked by potential customers. Make sure your booth is visually appealing, unique, organized, and  professional looking. If your presentation is boring, sloppy, or all over the place, people will possibly move to the next booth. If your presentation is poor, you are doing your amazing work a disservice. You want your presentation of your pieces to show off your art!
Personality
This one can be considered the most important of the 4 P's! In a time where a lot of people turn to the internet for shopping, make your art stand out by showing customers who you are. People are more likely to buy something if  you interact with them, talk about your work, and give them a glimpse into who you are as an artist. Stay away from sitting in a chair reading a book, being on your cell phone, or just watching people look through your work. Introduce yourself, be friendly, and let them know your art is more than a product to be bought.
Now that you know the 4 P's of Art Shows, you are ready to take on the Fountain Festival and Great Fair!