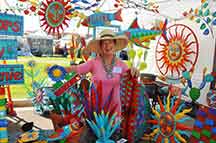 You know what they say: first impressions are important. Whether you are going to a job interview, on a first date, or even exhibiting at an art show, the way you first present yourself (and your art) is key.
Let's focus on that last example of exhibiting at an art show. If you have found yourself on this blog, you might be finding yourself more familiar with the Fountain Festival of Arts and Crafts, as well as the Great Fair. Both of these art shows is a place where exhibiting artists can learn that presenting your art in a great way can positively impact your show's success.
We have put together a few ways that you can make your booth at the Fountain Festival and the Great Fair huge crowd pleasers.
Leave the Art Gallery Feel at the Gallery
When people think of art, they might think of a typical gallery; minimal decorations, white walls, and a few art pieces scattered around. That is fine in a gallery, but sometimes it does not draw people to your booth at the Fountain Festival or Great Fair. Bring in some back drops, use table cloths, have decor pieces that show off your art in a way that makes your booth unique. People are more likely to be drawn to a booth that stands out!
Less is More
It might sound cliche, but it is true! By keeping your booth free of any clutter and things that are not necessarily needed can make your booth look clean, inviting, organized and chic. As i mentioned before, decorative pieces are great, but if there is more decor than there is art product, it might mean that you need to scale back on the festive decorations!
Use Your Space Wisely
While exhibiting at the Fountain Festival of Fine Arts & Crafts or the Great Fair, you might want to think outside the box – literally! Our shows offer booth spaces that have an extra four feet of space outside of a normal 10' x 10' tent, meaning you have some extra space to play with. You could have a small display outside of your booth to draw people in, or, you could even have a few art pieces slightly displayed in front of your booth. Make sure to put those extra 4 feet to use to benefit the look and feel of your display.
Show Who You Are
When attendees come to the information booth at the Fountain Festival or Great Fair, a lot of times they are looking for a specific vendor. And chances are, they walked right by their booth on the way to the info booth, simply because they couldn't tell who was in a booth. We encourage everyone to bring a sign that has their name, or business name, so people can find  you, as well as recognize you from other art shows.
Stay Open
When we say, "Stay open", we don't mean you should hang a "Open for Business" sign outside your booth. We really mean to make your booth look open. This is as simple as making sure there is not anything blocking the main opening of your booth, essentially cutting people out and making them feel unwanted from entering. Make sure all shade covers do not block the entrance to your booth, as well as have a clear entry point for people to come in shop, fall in love with a piece, and want to take it home.
There you have it, a few simple ways to make sure your booth at the Fountain Festival of Arts and Crafts and Great Fair makes for a great weekend of exhibiting. We look forward to seeing what everyone comes up with this year!