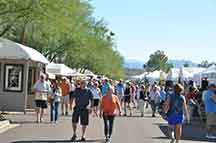 So, you are thinking about applying to be an artist at the 2017 Fountain Festival of Fine Arts & Crafts. If there is anything keeping you back from submitting your application, make sure to read the many reasons why the Fountain Festival is one of the best shows for artists in Arizona. Check it out!
The History: The Fountain Festival of Arts & Crafts has been a Fountain Hills tradition for over 30 years. It started off as a show with only 60 vendors in Fountain Park, but over three decades it has moved locations, and grown to nearly 500 of the finest artisans around!
The Location: If you have never been to Fountain Hills, you are missing out! The Fountain Festival takes place in the beautiful town of Fountain Hills in Arizona. It is a suburb of Phoenix, just past Scottsdale, which gives it a unique home-town vibe. It is nestled in a pristine desert community, and has been made famous by the iconic fountain. It is the perfect place to host and art show such as the Fountain Festival.
The People: As mentioned above, the Fountain Festival of Fine Arts & Crafts has an extensive history, and with history comes loyal fans! Each year, people who have been going to the festival come back to see their favorite long time artists, and to meet new ones. The Fountain Festival has become a beloved tradition for Fountain Hills residents and visitors alike, and each year grabs hold of people who will come back year after year.
The Artist Community: The Fountain Festival has a great atmosphere for artists. During the day, it is all about the show, but on Saturday night, we host an "Artist Party" for those involved in the show so they can connect and make friendships with others. It is a time to have fun, eat a delicious dinner, and meet other artists of all different types. People have met long time friends by being a part of the Fountain Festival making, it a very special event for artists. It's not just about business!
The Weather: It's not always 118 degrees in Arizona! Since the Fountain Festival of Fine Arts & Crafts is held in November, the weather is perfect for an art show. Temperatures typically fall within 73-80 degrees that time of year – what could be more ideal?! These conditions make it perfect to take a nice stroll down the Avenue of the Fountains looking at all of the beautiful art.
The Variety: With over 15 different media categories, there is something for everyone to apply in! Artists can apply in up to three different categories, so your work is bound to fit into one or more. The Fountain Festival has many different types of artists, budgets, and styles making it a very diverse show that attracts buys of all sorts.
The Atmosphere: Being in Fountain Hills is wonderful in itself, but being in Fountain Hills surrounded by amazing art, entertainment, food an more is better! In addition to showcasing hundreds of exquisite artists, the Fountain Festival also includes over 20 food options for attendees to enjoy. If the want to grab a cold one, there are also two beer gardens where they can enjoy a beer or glass of wine. Live music at different locations also adds to the overall atmosphere of the Fountain Festival making it a great place to spend the day. All of these combined attracts people from all over the state to come see what the Fountain Festival is all about!